Digital Commerce
·
Göteborg
·
Hybrid Remote
Sales & Account Manager till Digital Commerce i Göteborg
We usually respond within three days
Brinner du för sälj, ledarskap och att alltid hitta den bästa lösningen för kunden? Då kan du vara vår nya kollega!
Förväntad kompetens
Minst 5 års erfarenhet av Sales & Account Management inom kundnära
e-handelslösningar
Intresse för nätverkande och social selling. Ett existerande nätverk inom e-handel i Västsverige är en stor fördel.
Vana av att förhandla och teckna avtal med kunder
Flytande svenska och engelska i tal och skrift
Snubblar du på målsnöret när det kommer till erfarenhet eller är du osäker på om du har nog av det? Connecta med oss ändå! Vi vill alltid träffa nya talanger!
Arbetsbeskrivning
Som Sales & Account Manager kommer du att ansvara för kundnöjdhet, merförsäljning samt lönsamhet på kund. Du kommer att ansvara för ett urval av nyckelkunder där du kommer att bidra till att ta partnerskapet ännu längre dels genom väldigt bra leveranser men också genom att utmana och inspirera kunden att ta ytterligare steg. Du kommer även vara delaktig i merförsäljning där du kan identifiera kundens behov och med ett öga för cross-sales erbjuda lösningar ur hela Columbus sortiment. Genom iniativtagande och nyfikenhet driver du in nyförsäljning mot uppsatta försäljningsmål. Vi anordnar regionala marknadsföringsaktiviter och ser gärna att är du deltar och ibland även driver dessa. 
Du får även vara med och verka som en brygga mellan sälj- och leveransorganisationen. Trots att din paradgren och ditt fokus är sälj och kundutveckling får du vara med under hela resans gång och bidra med din detaljkunskap för att bygga Göteborg till en ännu starkare region, både sälj- och leveransmässigt. 
Om Columbus
Columbus är experter på att skapa tillväxt genom insikter i dina kunders beteenden och att tillhandahålla en sömlös upplevelse när de interagerar i dina digitala kanaler. Med vår branschövergripande erfarenhet inom B2B och komplex B2C sticker vi ut på marknaden, och gör Columbus till den främsta samarbetspartnern i Norden, när det gäller digital försäljning. Vi hjälper våra kunder att utforma och förverkliga lösningar i toppklass enligt branschspecifika behov så att den fulla potentialen i din digitala verksamhet frigörs.
Columbus är ett globalt IT-konsultbolag med ca 1600 anställda. Våra experter möjliggör digital transformation, maximerar och framtidssäkrar ditt företag.
Jobba på Columbus 
Spana in vårt Insta-flöde för att få en bild av hur det är att jobba hos oss genom våra kollegor. Klicka på bilden för att komma till Instagram-kontot.

Helt ofiltrerat har vi samlat in omdömen från nuvarande och tidigare kollegor. Klicka nedan för att läsa mer.
Department

Role

Sales Manager

Locations

Remote status

Hybrid Remote

Employment type

Full-time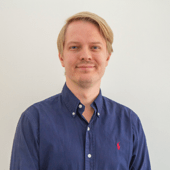 Contact
Daniel Sparrow
Talent Acquisition & Employer Branding – Global Functions
About Columbus
We bring digital transformation so our customers can thrive far into the future.

Columbus is a global IT services and consulting company and we are experts in designing, developing, implementing, upgrading and maintaining digital business applications. Our mission is to help our customers to gear up for the future and to succeed in the digital transformation. Any change is daunting but we will be there, every step on the way.
Our secret to success is a comprehensive solution portfolio, deep industry knowledge, extensive technical expertise and profound customer insight. And of course, our entrepreneurial environment, passion to develop ourselves and strong team spirit. This has worked very well for us for over 30 years.
Are you ready to transform with us?
Digital Commerce
·
Göteborg
·
Hybrid Remote
Sales & Account Manager till Digital Commerce i Göteborg
Loading application form
Already working at Columbus ?
Let's recruit together and find your next colleague.