Digital Commerce
·
Multiple locations
·
Hybrid Remote
Senior Frontend Developer to our inhouse-team!
We usually respond within three days

Are you a couple of years into your frontend developer career and looking for an opportunity to join a team of other senior developers? Are you interested in having a say in how projects should be run and what the frontend architecture should look like? Would you like to work in a dynamic environment with a big focus on collaboration between different roles? Then this might be the right role for you! 

What we hope you will bring!
+3 years of work experience as a front-end developer
Relevant degree/educational background for front-end
Consultant skills
Good business English (Swedish is just a bonus)
We do not offer relocation packages for this position. A working Swedish VISA is required. If you feel uncertain about whether you meet the requirements or have enough experience or not- connect anyway! We are always keen to meet new talents.
Job description
We work with digital commerce solutions, helping customers such as XXL, Lindex, Toyota, Volvo, IKEA, Hallon, and Derome to grow their digital businesses.
With us, you will grow in knowledge and the complexity you will be responsible for. Over time we see that you will grow into a senior role where you can talk about front-end architecture, be involved in pre-sale, train junior developers of your own, and be involved in technical decisions and ways of working.
But before that we see your first year play out something like this:
In 3 months: You learn our ways of working, learn our project model and join your first project.
In 3-6 months: Can work as an integrated part of our projects, collaborating and contributing value to the customer.
In 6-12 months: Can take lead on the frontend aspects of our larger projects and be a customer's trusted advisor.
We would like to present one of our developers, Hanna Möllergren from our Göteborg office, and let her tell you about her everyday life with us.
"I choose to join Columbus as a developer because of the enormous experience and competence within the organization. They do knowledge sharing and give me the opportunity for self-development, flexibility, and work-life balance."
"On an average day, I usually implement styling according to design and optimize the user experience. I maintain and evolve new features, fixing bugs and testing for usability, scripting, and responsive design. My favorite part is my fantastic and competent colleagues and the variety of work assignments. I get to work with different customer projects that allow me to work with different technologies and frameworks, such as node js och next js. As the technology grows and alters all the time I know there will be both new frameworks and challenges coming my way."

Culture
Columbus Sweden is a company started by entrepreneurs and the entrepreneurial spirit is still going strong. This means we are at the forefront and always eager to develop ourselves in new areas. We believe that happy employees equal happy customers. Being creative and learning from each other is what makes us successful. We want to be the best at what we do and are always striving to get better. Working as a team we make work fun and enjoyable.
At Columbus, you are always welcome to express new ideas and you have the opportunity to influence from start.
About Columbus
At Columbus, we are experts at creating growth through insights into your customers' behaviors and providing a seamless experience when they are interacting in your digital channels. With our industry-wide experience within B2B and complex B2C, we stand out from the crowded market and make Columbus the foremost partner in the Nordics when it comes to digital sales. We help our customers to design and realize solutions in top-class according to industry-specific needs so you can reach your full potential in your digital operation.
Columbus is a global IT consultancy company with 1800 employees around the globe. Our experts enable digital transformation, and we maximize and future-proof your company.
Working at Columbus
Take a look at our Instagram account to meet our colleagues and get a glimpse behind the scenes of life at Columbus. 

Entirely unfiltered we have collected reviews from current and previous colleagues. Click below to read more.
Department

Role

Front End Developer

Locations

Remote status

Hybrid Remote

Employment type

Full-time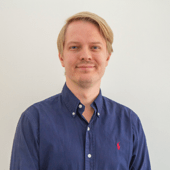 Contact
Daniel Sparrow
Talent Acquisition & Employer Branding – Global Functions
About Columbus
We bring digital transformation so our customers can thrive far into the future.

Columbus is a global IT services and consulting company and we are experts in designing, developing, implementing, upgrading and maintaining digital business applications. Our mission is to help our customers to gear up for the future and to succeed in the digital transformation. Any change is daunting but we will be there, every step on the way.
Our secret to success is a comprehensive solution portfolio, deep industry knowledge, extensive technical expertise and profound customer insight. And of course, our entrepreneurial environment, passion to develop ourselves and strong team spirit. This has worked very well for us for over 30 years.
Are you ready to transform with us?
Digital Commerce
·
Multiple locations
·
Hybrid Remote
Senior Frontend Developer to our inhouse-team!
Loading application form
Already working at Columbus ?
Let's recruit together and find your next colleague.