Digital Commerce
·
Stockholm
·
Hybrid Remote
Är du vår nästa Projektledare inom Digital Commerce?
We usually respond within three days
Är du en Projektledare som vill jobba med att digitalisera våra kunders affärer och följa med i de senaste trenderna? Är du duktig på att bygga långsiktiga relationer och att inspirera våra kunder att växa? Vill du vara en del av ett fantastiskt team och ha en roll som mentor? Då är du helt rätt för oss!

Vem är du?  
Erfarenhet inom agil utveckling 
Gedigen erfarenhet av IT-utvecklingsprojekt
Du talar flytande svenska och engelska   
Erfarenhet av att leda e-handelsprojekt
Vi söker dig som är självgående, duktig på att få ihop pusslet och skapar trygga långsiktiga relationer med våra kunder. Vår ambition är att alltid vara kundens Trusted Advisor, och delar du den ambitionen med oss är du helt rätt. 🧡
Arbetsbeskrivning
Hör vad din framtida kollega har att berätta om rollen som Projektledare och en vanlig dag på jobbet: 
"Som projektledare hos Columbus arbetar jag självständigt med kunden och teamet. På en och samma dag kan jag redovisa övergripande projektstatus för min kunds styrgrupp, och diskutera utmaningar med integrationsspecifikationen med våra utvecklare. Därför är det viktigt att jag kan kommunicera på flera olika nivåer, både för att förstå kundernas affär och för att förstå utvecklarna. 

Det absolut roligaste med att vara projektledare är alla fantastiska kollegor och att vi arbetar med moderna metoder och de senaste tekniska plattformarna. Vi jobbar nära varandra och använder Scrum och agila projektmetoder. Columbus satsar också mycket på långsiktiga kundrelationer och har sin egen "Evolve" metodik, som jag tycker är ett jättesmart tänk."
Som projektledare hos oss erbjuds du en spännande arbetsmiljö inom ett expansivt fält där du får arbeta med några av de mest intressanta e-handelsprojekten i Norden. Genom att både dela kunskap, och ta del av kunskap, kommer du att växa som person och vara en viktig del i vårt företag. Våra projektledare kan beskrivas som vår trygga punkt, det är de som håller ordning och visar oss vägen så att vi alla kan trivas i en omväxlande miljö.  
Vem skulle passa för denna tjänsten? Vad krävs för att lyckas? 
"Jag tror att man måste vara genuint intresserad av e-commerce, för det rör sig väldigt fort i branschen, vilket också är det roliga. Därför är det också bra att kunna hålla ordning och reda samtidigt som man är flexibel. För att lyckas ser jag att man bör ha en hög prestations- och uppfattningsförmåga, samt en mycket god kommunikationsförmåga, för att både själv skapa förståelse för projektet och sedan föra vidare den till kunden".  
Kultur
Columbus är från början skapat av entreprenörer och den andan lever fortfarande kvar. Vi ligger i framkant, provar nytt och vågar utvecklas in på nya områden. Vi tror att glada och nöjda medarbetare skapar glada och nöjda kunder. Det har gjort att vi är kreativa, lär av varandra och sitter på mycket av branschens kompetens. Vi vill bli bäst på det vi gör, och därifrån ständigt bli bättre. Samtidigt som vi har kul på jobbet, där skratt och skämt är vardag och vi ser fram emot att träffa varandra på måndag morgon. 

Ansökningsprocessen
Varmt välkommen in med din ansökan. Hos oss kan du ansöka med din LinkedIn-profil och behöver inte ladda upp massa CV:n och personliga brev om du inte vill. Vi kommer hålla intervjuer löpande. Som en del av vår process ingår ett logik- och personlighetstest. 
Om Columbus
Columbus är experter på att skapa tillväxt genom insikter i dina kunders beteenden och att tillhandahålla en sömlös upplevelse när de interagerar i dina digitala kanaler. Med vår branschövergripande erfarenhet inom B2B och komplex B2C sticker vi ut på marknaden, och gör Columbus till den främsta samarbetspartnern i Norden, när det gäller digital försäljning. Vi hjälper våra kunder att utforma och förverkliga lösningar i toppklass enligt branschspecifika behov så att den fulla potentialen i din digitala verksamhet frigörs.
Columbus är ett globalt IT-konsultbolag med ca 1600 anställda. Våra experter möjliggör digital transformation, maximerar och framtidssäkrar ditt företag.
Jobba på Columbus 
Spana in vårt Insta-flöde för att få en bild av hur det är att jobba hos oss genom våra kollegor. Klicka på bilden för att komma till Instagram-kontot.

Helt ofiltrerat har vi samlat in omdömen från nuvarande och tidigare kollegor. Klicka nedan för att läsa mer.
Department

Role

Project Manager

Locations

Remote status

Hybrid Remote

Employment type

Full-time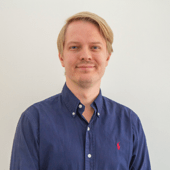 Contact
Daniel Sparrow
Talent Acquisition & Employer Branding – Global Functions
About Columbus
We bring digital transformation so our customers can thrive far into the future.

Columbus is a global IT services and consulting company and we are experts in designing, developing, implementing, upgrading and maintaining digital business applications. Our mission is to help our customers to gear up for the future and to succeed in the digital transformation. Any change is daunting but we will be there, every step on the way.
Our secret to success is a comprehensive solution portfolio, deep industry knowledge, extensive technical expertise and profound customer insight. And of course, our entrepreneurial environment, passion to develop ourselves and strong team spirit. This has worked very well for us for over 30 years.
Are you ready to transform with us?
Digital Commerce
·
Stockholm
·
Hybrid Remote
Är du vår nästa Projektledare inom Digital Commerce?
Loading application form
Already working at Columbus ?
Let's recruit together and find your next colleague.